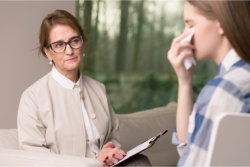 "Know that everything is in perfect order whether you understand it or not." –Valery Satterwhite
For teenagers between the ages of 12-17, a lot of changes can happen – be it personal changes that are part of growth, social changes such as meeting new people, changes in family dynamics, and some other changes that can occur. All of these changes may cause anxiety and may prevent a teen from living a full, happy life. At Teen Anxiety, we want to help teenagers who are suffering from anxiety disorders. We want to help teens accept that change is a part of life and that they shouldn't be too anxious about it.
Our Acceptance and Commitment Therapy (ACT) can be helpful in treating teens with anxiety. At its essence, Acceptance and Commitment Therapy is an acceptance-based behavior therapy that encourages an individual to accept life's problems and challenges, understanding, and overcoming negative feelings and thoughts, and living life fully according to one's chosen values. During Acceptance and Commitment Therapy, we help our clients understand their anxiety and what triggers it. We also help them understand their anxious behaviors, thoughts, and feelings. Once our clients understand their condition fully, we can then help them face and accept it for what it is without constant anxiety and fear.
Seeking professional help for Teen Anxiety Treatment in Los Angeles, California is not a sign of weakness, but it is a sign that you are ready to live your life to the fullest – free from your anxiety disorder. If you are interested in our teen anxiety treatment, please don't hesitate to call us at 888-248-1278. If you want to meet a representative from our Teen Treatment Center in Los Angeles, please Set an Appointment now.