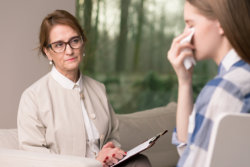 Generalized Anxiety Disorder (GAD) is a type of anxiety disorder that is characterized by excessive worry about everyday life. Teenagers diagnosed with generalized anxiety disorder can't stop worrying about school, family, health, money, and other factors in their life. They also always expect the worst outcome in everything. For people with GAD, their worry is often exaggerated, out of proportion, or unrealistic.
As we provide Teen Anxiety Treatment in Los Angeles, California, we understand how debilitating GAD can be. For a teenager with GAD, they are constantly in a state of dread, fear, apprehension, or worry. Eventually, they may be unable to handle the anxiety, and it ends up disrupting their daily functioning, including their relationships, social activities, and school life. This is something that we do not want to happen, which is why we encourage you to seek our professional help as soon as possible.
What are the symptoms of GAD?
GAD affects the way an individual thinks. However, it can manifest in physical symptoms as well. Symptoms of GAD include:
Excessive and exaggerated worry
Feeling edgy or restless
Irritability
Difficulty concentrating
Difficulties with falling or staying asleep
Inability to relax
Easily startled
Trembling or twitching
Headaches
If you want to learn more about GAD and our Teen Treatment Center in Los Angeles can help you, please contact us now. You can reach us by calling 888-248-1278 or you can also Set an Appointment now for assistance.