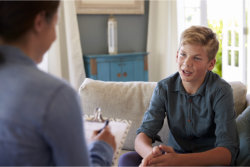 At our Teen Treatment Center in Los Angeles, we believe that gaining a better understanding of your condition is important so that you can manage it better. For example, did you know that anxiety in teens often come in three different types? These are:
Services and Programs for Teen Anxiety Therapy
Now that you have a better understanding of the different types of anxiety, you should also educate yourself about the treatment options available for you. While your treatment will be determined by a mental health professional, it is still important for you to gain a better understanding of it as well. At Teen Anxiety, we offer the following services and programs for teen anxiety therapy:
At Teen Anxiety, we'll help you cope with the anxiety that you are feeling. First, we do the necessary evaluations and assessment to diagnose what type of anxiety you are suffering from. From there, we can identify the right treatment program for you. Do not worry as we respect the confidentiality of this situation and will work closely with you for your optimal benefit and recovery.
Anxiety is something you can let go of. With our help and with the support of your family and friends, you can do it! Call us at 888-248-1278 or Set An Appointment to get started with Teen Anxiety Treatment in Los Angeles, California.