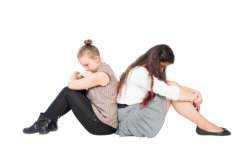 Post-Traumatic Stress Disorder (PTSD) is a mental health problem that may develop after an individual witnesses or experiences a traumatic event such as combat, a natural disaster, sexual assault, or a car accident. It can happen to people of all ages – from children, teenagers, to adults. While it is normal to experience troubling memories, flashbacks, and edginess after such events, if it persists for more than a few months, you may have PTSD, and it is important for you to see a professional at our Teen Treatment Center in Los Angeles.
At Teen Anxiety, a premier Southern California Teen Anxiety Treatment Center, we are knowledgeable and trained to handle cases of PTSD and we are ready to help you.
What are the symptoms of PTSD?
Symptoms of PTSD may manifest right after the traumatic event, or they may not appear until a few months or years after. Symptoms may also come and go throughout the years. If your symptoms start to interfere with your daily life, and if it has lasted for more than four weeks, you might have PTSD.
While symptoms of PTSD can differ from one person to another, here are some of its common symptoms:
Reliving the event through flashbacks, nightmares
Avoiding situations, objects, and places that can remind you of the event (avoiding "triggers")
Negative changes in your feelings and beliefs (e.g. loss of trust on the people around you, isolation)
Hyperarousal (feeling jittery, inability to sleep, concentration difficulties)
Allow our professional mental health professionals at Teen Anxiety to help you. Remember, asking for help is not a sign of weakness. Contact us today at 888-248-1278 or Set an Appointment for Teen Anxiety Treatment in Los Angeles, California.