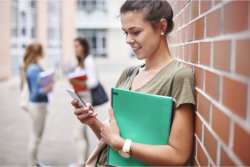 "Acceptance is having the faith, despite the circumstances, that all is well." – Unknown
At Teen Anxiety, a well-known California Teen Anxiety Treatment Center, we constantly strive to help teenagers between the ages of 12-17 overcome their anxiety. We understand how much anxiety can affect life, and in order to help our clients live a life free from their anxiety disorder, we offer our Teen Anxiety rehab that is specifically designed to help teens with anxiety. One of our Teen Anxiety programs is our Dialectical Behavioral Therapy.
Dialectical Behavioral Therapy (DBT) is an acceptance-based behavior therapy. Acceptance and change – these are the two main dialectics (opposing ideas) that Dialectical Behavioral Therapy helps you accept. Essentially, Dialectical Behavioral Therapy encourages an individual to accept that everything is as it should be, but that one should learn to accept changes as well. For example, teenagers may go through a lot of changes personally, socially, physically, and mentally, and it may cause them to feel scared and anxious. However, with Dialectical Behavioral Therapy, we can help teenagers: be mindful and be aware of their experiences, cope with stressful situations in a healthy way, and help them regulate their emotions effectively.
Learn more about the Dialectical Behavioral Therapy treatment program at our Teen Anxiety Treatment in Los Angeles, California. Don't let your anxieties dictate how you live your life, and get the professional help that you need so you can be finally free from your anxiety disorder. Contact Teen Anxiety at 888-248-1278 or you can Set an Appointment for Teen Anxiety Treatment in Los Angeles, California.