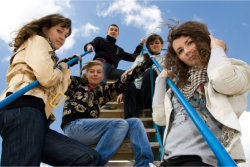 "Very little is needed to make a happy life; it is all within yourself, in your way of thinking." – Marcus Aurelius
As a premier Southern California Teen Anxiety Treatment Center, Teen Anxiety constantly strives to deliver the most appropriate teen anxiety programs for our clients between the ages of 12-17. In fact, one of the methods for Teen Anxiety Treatment in Los Angeles, California that we use is the well-established Cognitive Behavioral Therapy.
Cognitive Behavioral Therapy (CBT) is one of the most widely-used therapy options in treating anxiety disorders. The main premise of CBT is that the thoughts – not external events or circumstances – that are responsible for how you feel. During CBT, we aim to change a teens' negative thinking patterns or behavior that may be causing their anxiety. CBT has two main components: Cognitive (examining how your negative thoughts and cognitions contribute to anxiety) and Behavior (examining how your behavior and reaction to situations can trigger anxiety.)
During CBT, we encourage teenagers to:
Identify their negative thoughts. Individuals who suffer from anxiety may have negative thoughts that may seem more dangerous than they actually are. For example, a person with germ phobia may feel like touching another person is life-threatening. While it may sound irrational, it makes complete sense to a person with anxiety. During CBT, we help our clients identify negative thoughts such as the one mentioned here.
Challenge their negative thoughts. Once you have identified your negative thoughts, our therapist will encourage you to challenge them. During CBT, you will be encouraged to question your frightening thoughts, analyze your negative beliefs, and test the reality of your anxiety-provoked predictions.
Replace negative thoughts with realistic thinking. Once your negative thoughts and anxiety-provoked predictions have been identified, our therapist can help you replace them with new thoughts that are more realistic, positive, and accurate.
At our Teen Treatment Center in Los Angeles, we want to help you deal with your anxiety. If you are interested in our CBT treatment program, Set an Appointment now or contact us at 888-248-1278 for assistance. We look forward to assisting you soon.