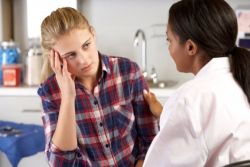 As an established and experienced Southern California Teen Anxiety Treatment Center, Teen Anxiety is ready and equipped to help a teenager deal with their anxiety. We are composed of trained and qualified mental health professionals who are more than capable to provide Teen Anxiety treatment and Teen Anxiety programs that can help teenagers between the ages of 12-17 years old overcome their anxiety.
At our Teen Treatment Center in Los Angeles, we offer a variety of Treatment & Programs that are personalized according to the needs of our client. However, before we even begin to start treatment, we take the time to thoroughly evaluate the situation, condition, and needs of our client. We listen to your concerns, and we provide a safe and private environment where a teenager can freely talk about their behaviors, fears, concerns, and thoughts without fear of being judged.
Once we gain a better insight about our client's situation and needs, we then develop a personalized treatment program that best suits their needs. We offer therapy methods, such as CBT, ACT, DBT, individual psychotherapy, holistic therapies, and group therapy.
Everyone feels anxious from time to time, but if you suspect that your child's anxiety is escalating (please check out our Symptoms of Teen Anxiety ), it may be time for you to consider our professional help.
We encourage you to Set An Appointment for Teen Anxiety Treatment in Los Angeles, California now, or to contact us at 888-248-1278 for assistance.